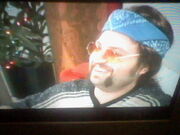 He first appeared in Episode: 4/5 under the Pizza Boxes and he is one of the students of Professor Burger.
His name is Milo and a local Hippie. He graduated along with Alison and Gary, but re-enrolled as a freshmen, forgetting he why he was at the graduation ceromony.
Ad blocker interference detected!
Wikia is a free-to-use site that makes money from advertising. We have a modified experience for viewers using ad blockers

Wikia is not accessible if you've made further modifications. Remove the custom ad blocker rule(s) and the page will load as expected.